Sew Me Sunshine is an independent dressmaking fabric & haberdashery shop shipping worldwide
A curated selection of dressmaking fabrics, including a large range of sustainable eco fabrics & deadstock (ex designer) garment fabrics, dressmaking patterns and high quality sewing supplies. Our one stop shop will help you make a handmade wardrobe that will make you and the planet smile.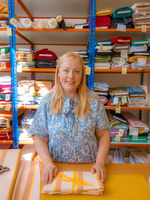 Thanks for stopping by!
My name is Harriet and I am the face behind Sew Me Sunshine. I created Sew Me Sunshine from my spare bedroom in 2017, today we employ four people and have over 1000 curated fabrics & sewing items for sale
Learn more about our Journey
What our lovely customers have to say about us!
A lovely shop with a team of helpful people. The customer service is brilliant, and they were quick to respond! I fully recomend shopping with them.

⭐⭐⭐⭐⭐ Kelly D, Facebook Review
Lovely fabrics, lovely service. Totally deserve your business.

⭐⭐⭐⭐⭐ Liz S, Facebook Review
Fantastic service, always timely, with brilliant sustainable packaging (all paper). Amazing selection of deadstock fabric at really fair prices. I always get compliments on the dresses I've made with their fabrics!

⭐⭐⭐⭐⭐ Rosa E, Google Review
Fantastic service... made my day when I received the beautiful package.... will be ordering again very soon 😍😍😍

⭐⭐⭐⭐⭐ Denise W, Facebook Review
Sew Me Sunshine can always be relied on to have a fantastic range of fabrics and an amazing service. Sustainability is clearly important to this business even down to their plastic free packaging.

⭐⭐⭐⭐⭐ Marcia, Google Review
Beautiful & great quality fabric, I always check here first if I'm looking for something a little bit special xx

⭐⭐⭐⭐⭐ Jodie L, Facebook Review