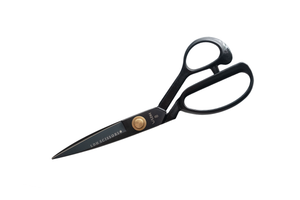 8" Midnight Edition Fabric Shears - LDH Scissors - Painted Handle
Regular price $59.00 Sale
2 available
Midnight Edition Fabric Shears are an industrial-grade professional tool. They are handcrafted by a scissor master and are insured with our 10-year warranty.
Metal
Handcrafted from heavy-duty industrial grade high carbon steel with a black anti-rust coating. 
Design
The blades are slightly concave and perfectly aligned to allow them to cut through thick layers effortlessly.
Handle
These scissors have a classic painted handle. It features a lighter overall scissor weight and fits the natural curve of your thumb. 

Size
8" (this measurement is for the entire length from handle to end of the blade)
Recommended Use
They can cut through multiple layers of fabric, leather, fleece, vinyl, denim, plastics, kevlar, and other dense materials.
*These shears are right-handed*