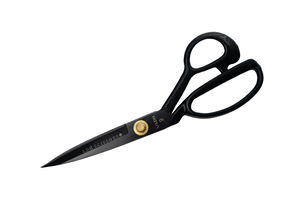 9" Midnight Edition Fabric Shears - LDH Scissors - Rubber Handle
Regular price $62.00 Sale
4 available
Midnight Edition Fabric Shears are an industrial-grade professional tool. They are handcrafted by a scissor master and are insured with our 10-year warranty.
Metal
Handcrafted from heavy-duty industrial grade high carbon steel with a black anti-rust coating. 
Design
The blades are slightly concave and perfectly aligned to allow them to cut through thick layers effortlessly.
Handle
These scissors have rubber-coated handles that are soft and will cushion your hand.  The rubber on the handle adds a little bit of weight to the overall scissor, and also makes the handle space a little smaller.

Size
9" 
Recommended Use
They can cut through multiple layers of fabric, leather, fleece, vinyl, denim, plastics, kevlar, and other dense materials.
*These shears are right-handed*